This is going to be a quick photo journal of some aspects of my build of a Revell 1/241 Millennium Falcon build. I picked this kit up cheap on Amazon for less than £6. Please be aware that it is tiny at under 11cm long. But don't let the size put you off.
Assembly was a snap
Assembly was childishly simple. There are maybe 16 parts to the whole kit. As already mentioned it is not a big kit and can even be put together without glue if you wish. It's basically snap-fit.
However, I chose to use Tamiya Extra Thin Cement and some pressure to remove the slight panel gaps.
Primed and ready
Painting was a simple affair. I used Vallejo Surface Primer – Grey to apply a couple light coats from my Airbrush. I also decided to ditched the decals for the cockpit, and the top and bottom turret glass. I instead painted the frames by hand without masking the glass at all.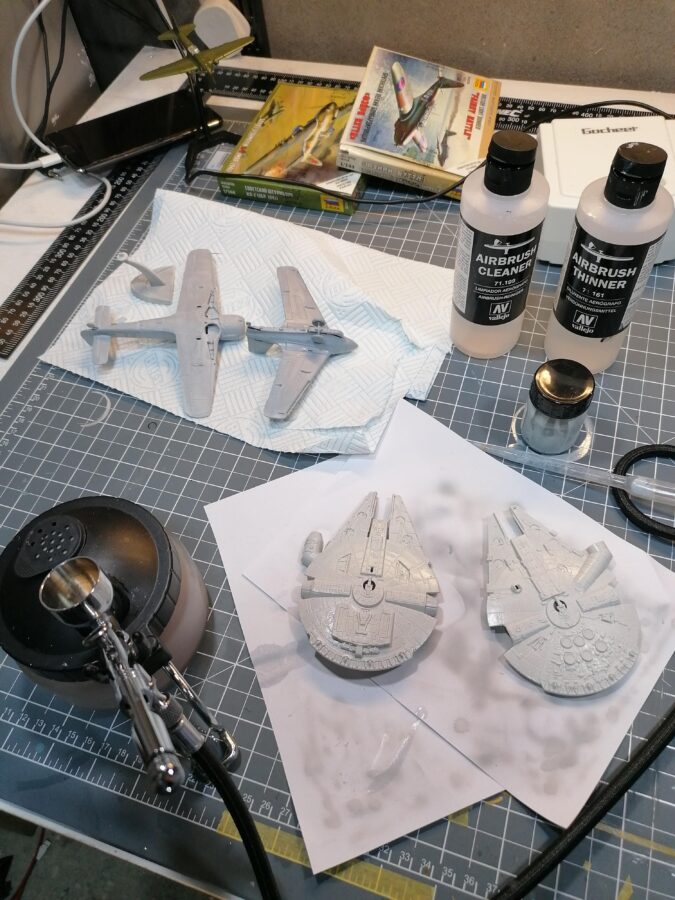 Getting cocky
I wasn't sure how best to do the Ion Engines and in the end decided to paint a gradient by hand. I've seen YouTubers like Miniac explain how to wet blend. I mean how hard can it be?
It turns out it's harder than it looks, they just make it look and sound easy. So after an hour and a half of applying and overlaying paint and countless and restarts I was happy. I also had a blue mouth from licking the brush frequently – something i need to address in the future.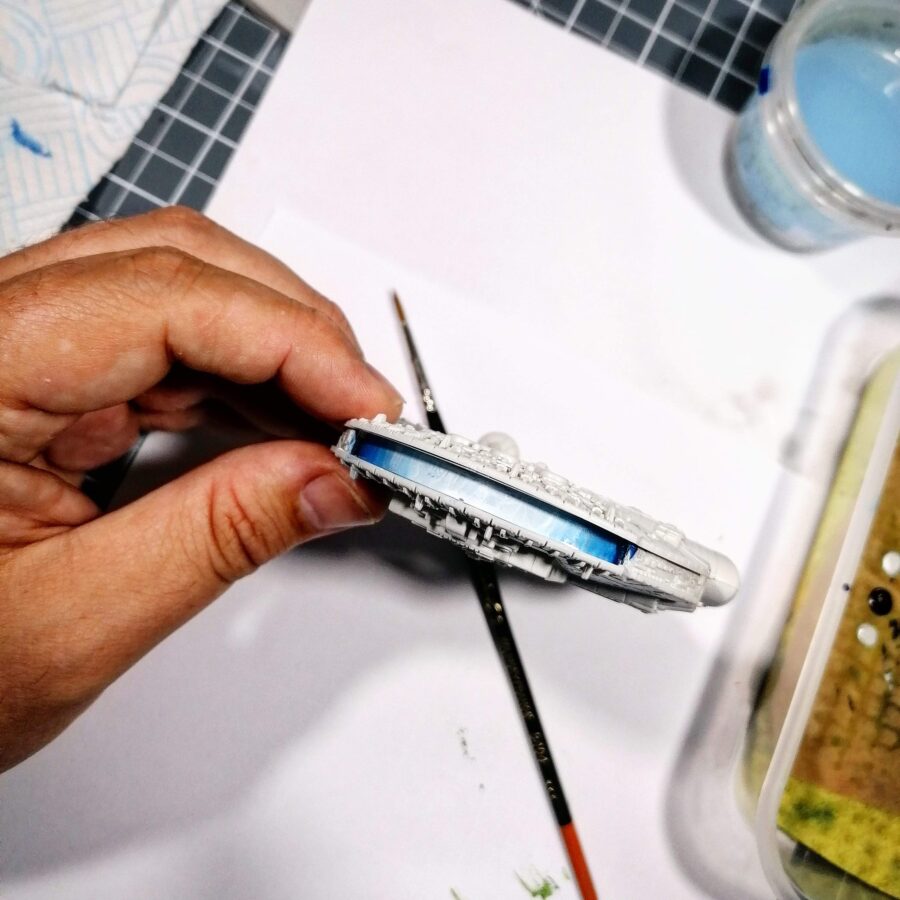 Far too cocky
The kit also came with a bunch of red decals for applying to specific panels. These looked wrong to my eye – just a bit bold and bright. I also thought, how hard can it be to neatly paint some raised panels. It turns out it was harder than it looks at this scale.
I also decided to compound the mess I was making by randomly painting some other panels in greys and browns to break up the uniformity a little. Again I free-handed this with sloppy results.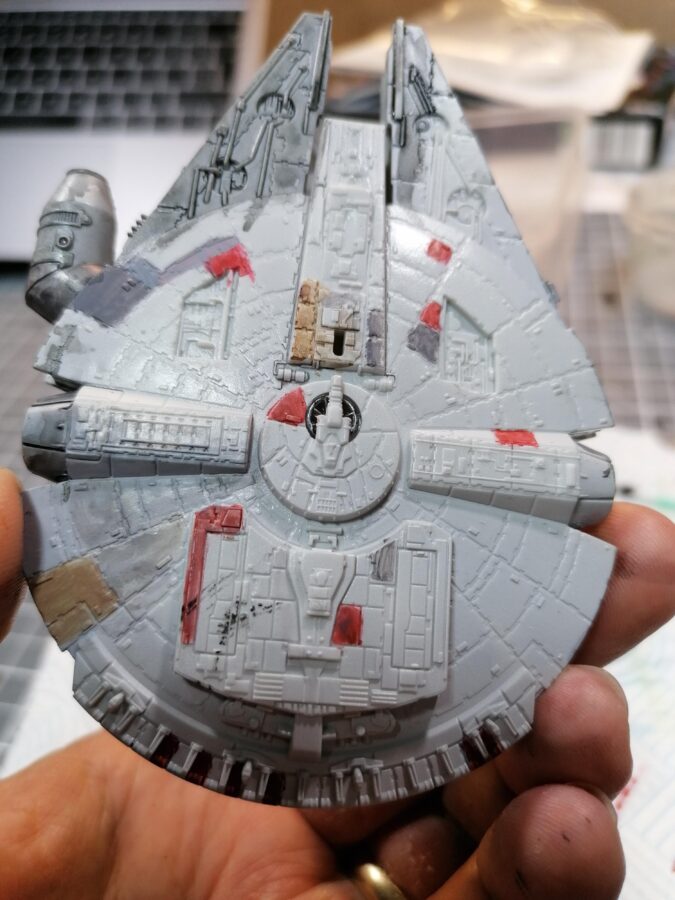 All washed up
I was feeling a little disappointed at how this was going, but decided to press on anyway and get it done. This could just be one of those kits that serves as a learning experience. So with a quick couple of coats of gloss varnish I moved on.
Out came the only wash I have, a Vallejo Black Wash.
I applied this liberally hoping it would:
Pick out the panel lines to give greater detail and definition
Build up some grime up the model and knock back any shine
Level out the panel highlights.
Cleaned up nice
As I applied it and then removed it with a cue tip, the model started to come together. The Millennium Falcon was coming to life.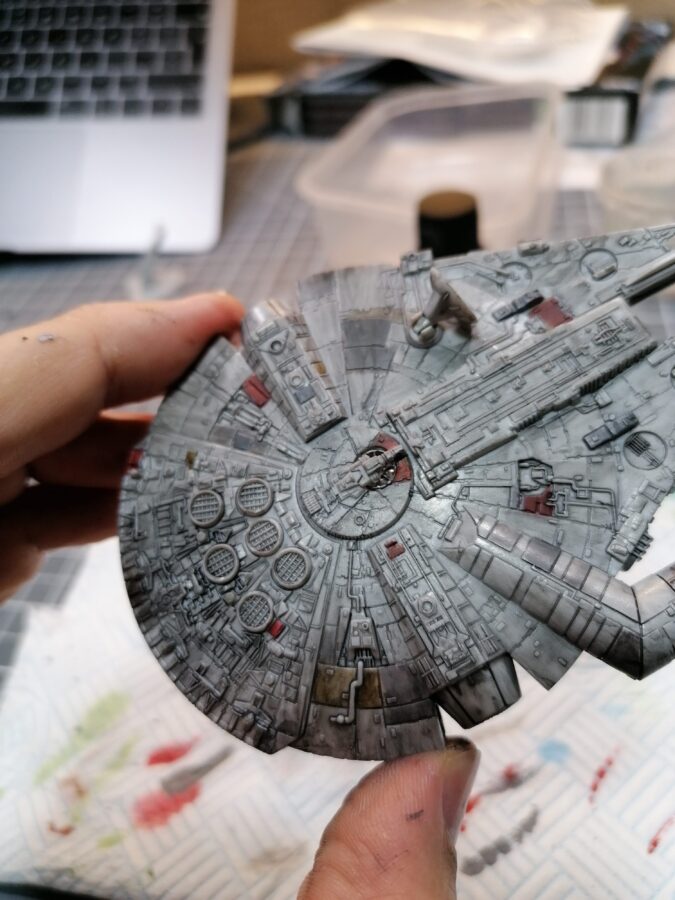 And done…
Some final pictures to enjoy of the finished build.
Wrapping up
Now I have a super cool star wars model that I can show off and that cost me very little. Go pick one up and give a sci-fi build like this a go.
If you've not done a sci-fi build before then you can't really go wrong with this one.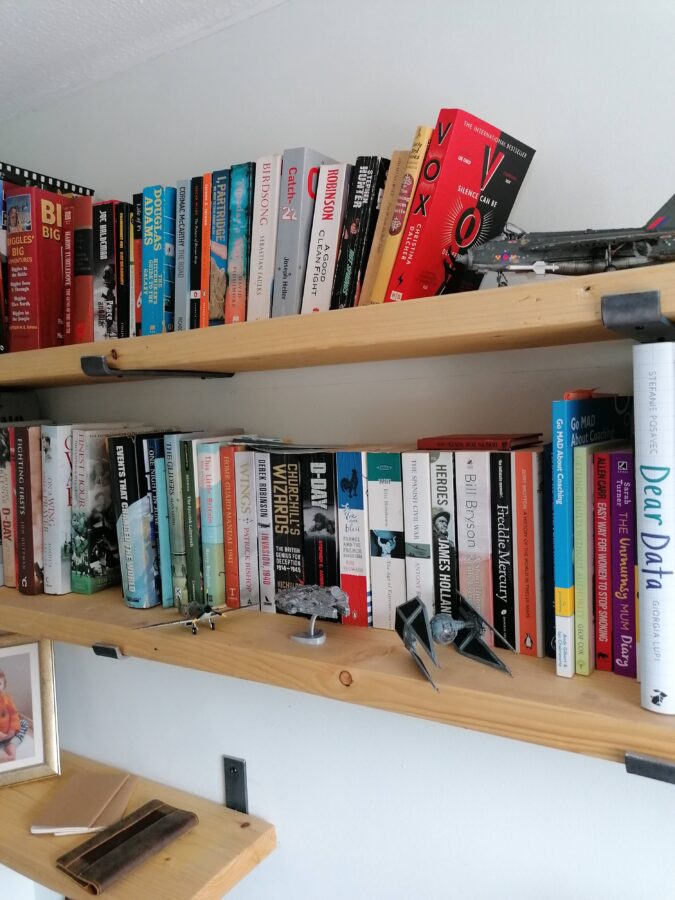 Next steps
I have a real want to do more sci-fi stuff. Maybe an other star wars kit, maybe something else. I have already picked out a Gundam kit to build.
More on that to come and in the mean time you can get updates on any progress my following me on Instagram.